iGA Donates Furniture to School of Law
The International Governance Alliance (iGA) donated furniture and appliances to Makerere University School of Law (SoL). The furniture and appliances were handed over to the Ag. Principal, Dr. Benson Tusasirwe by Professor Fredrick Jjuuko, Dr. Maria Nassali and Justice Solome Bbosa (attended online).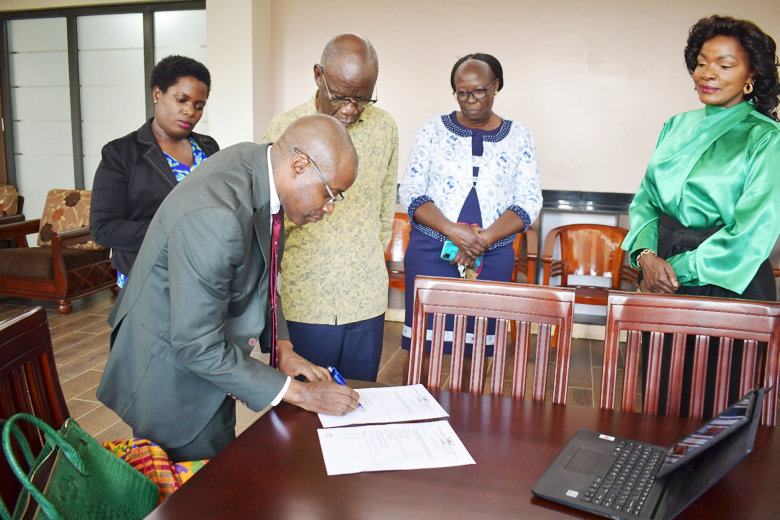 Dr. Benson Tusasirwe signing to acknowledge receipt of the donation from Professor Fredrick Jjuuko (3rd right) and Dr. Maria Nassali (1st right), Ms. Sarah Adero (2nd right) and Ms. Esther Rukundo (2nd left) witness the handover.
The donation comprised: Office Centre Table, 2 Side Tables, 1 Dining Table, 8 Boardroom Chairs, 5 Wooden Chairs, 2 sets of Wooden Drawers, 1 Safe, Italian Dinner Set, Samsung Fridge, 1 Gas/Electric Cooker.
In his remarks, Dr. Tusasirwe said, 'SoL is overwhelmed by the gesture, that of all the deserving people, iGA choose us. We have a new building but our furniture is yet to arrive therefore this gift is handy'. He added that the relationship that iGA has cultivated with SoL is much appreciated.
Handing over the donation, Justice Solome Bbosa acknowledged the work done by iGA and SoL over the years including joint publications which was a clear testament to partnership between academia and non-government organisations. She explained that iGA has decided to review its operations and will resume operations at a later date.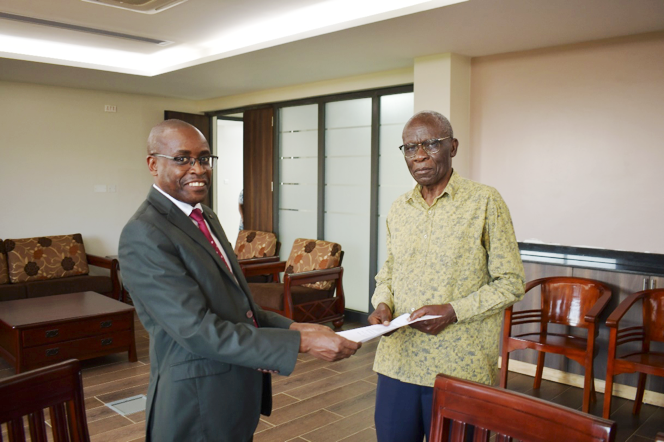 Dr. Benson Tusasirwe receiving the donation from Professor Fredrick Jjuuko
Members attending the handover listen to Justice Solome Bbosa's (online) remarks
International Governance Alliance
The International Governance Alliance [iGA] is an East African think-tank established in November 2012, operating at the regional and national levels headquartered in Kampala, Uganda. iGA works in Burundi, Kenya, Rwanda, Tanzania and Uganda. Through knowledge production and intellectual engagement, iGA worked to address critical governance issues affecting women, the media and resources with the aim of achieving equality, freedom and accountability. The organisation was committed to people-centred, social transformation that underlines human dignity.