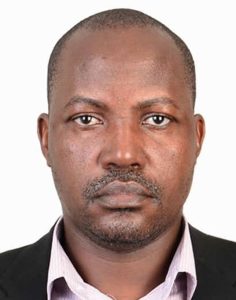 Christopher Mbazira     Qualifications: LL.B (Upper Class), (Mak); LL.M (Pretoria); Ph.D. (UWC), Dip. L.P.
(LDC).
Prof. Christopher Mbazira is a Professor of Law and Coordinator of the Public Interest Law Clinic (PILAC) at the same School and a founding member of the Network of Public Interest Lawyers (NETPIL). He previously chaired of the Rule of Law Committee of the Uganda Law Society.  He was one of 9 academics who approached the Supreme Court of Uganda and were admitted as amici in the 2016 Presidential Election Petition. This has resulted into positive jurisprudence on the subject of Amicus Curae.
Prof. Mbazira has written and spoken widely on the subject of socio-economic rights in the context of the judicial application of these rights as well as public interest litigation. Some of his research is published in respected journals. Christopher has attended and presented at a number of international seminars, workshops and conferences. 
He is the author of the title: Litigating socio-economic rights in South Africa: A choice between corrective and distributive justice (2009) and several journal articles. Since 2018, Prof Mbazira has supported the National Planning Authority (NPA) in integrating the Human Rights Based Approach in the country's development agenda. Prof Mbazira has consulted with international agencies, including the United Nations on human rights and governance matters. 
In 2021, Prof Mbazira won the Uganda Law Society Award for his distinguished service in legal education in Uganda. Prof Mbazira has been key in introducing the use of the clinical methodology of teaching the law and building a community of public interest lawyers in Uganda.
Prof Mbazira holds an LLB from Makerere University, an LLM in Human Rights from the University of Pretoria and a PhD from the University of the Western Cape in South Africa. In 2015, Christopher was a co-recipient of the Vera Chirwa Award given by the Center for Human Rights, University of Pretoria, for his outstanding contribution in the promotion of socio-economic rights in Africa. 
He is the proprietor of Amicus Consortium (U) Ltd with its Amicus Mixed Farm. Prof Mbazira is also a member of the Uganda Law Council, a body that regulates the legal profession in Uganda and also sits on the Law Development Centre (LDC).
E-mail: christopher.mbazira@mak.ac.ug
Download CV: