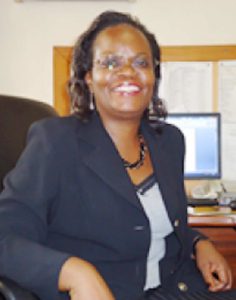 Dr. Naggita-Musoke is a Senior Lecturer at the School of Law. She joined the School in 1993 and is attached to the Department of Law and Jurisprudence.  She has worked as Acting Head of the same department, as well as Associate Dean for the then Faculty of Law.
Her areas of teaching and research interest include International Humanitarian Law, International Sale of Goods, Finance and Security in International trade, Environmental Law, International Commercial Litigation and Bankruptcy Law, Family Law, the Law of Evidence and Agency.  She has written extensively in the field of Women's rights generally and Women in Internal Conflicts. She is also one of the very few legal scholars in the area of disability rights in Uganda. 
Dr. Naggita-Musoke is an Advocate of the Courts of Judicature in Uganda, a member of both the Uganda Law Society as well as the East African Law Society. She is a member of the Law Council and the Law Development Centre Management Committee. She is a member of the Governing Council of Buganda Royal Institute of Business and Technical Education and is also the Deputy Chancellor of Mukono Anglican Diocese. In addition, Dr. Naggita-Musoke is a member of the Association of women Lawyers of Uganda (FIDA-U) as well as WILDAF-Women in Law and Development in Africa.
E-mail: naggitad@gmail.com