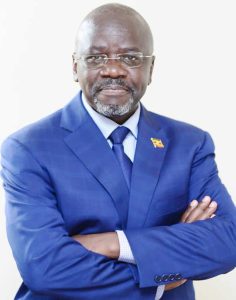 Godber Tumushabe  LL.B (Upper class), LL.M (Mak), Dip. L.P. (LDC
Assistant Lecturer
Godber W. Tumushabe is a farmer, a social entrepreneur, a lawyer and a policy analyst. He is currently Assistant Lecturer, School of Law where he teaches International Law, International and Regional Human Rights, and Environmental Law and Policy. Mr. Tumushabe is currently an Associate Director at Great Lakes Institute for Strategic Studies (www.glissafrica.org).  He Tumushabe is also Chairman and Chief Executive Officer of Tarl Eco Farms (www.tarlecofarms.com) Chairman of the Board of Directors of Ruhaama Real Estates Limited. In 2018, Mr. Tumushabe was elected to become a member of Evidence and Governance in Politics (EGAP) www.e-gap.org.
Mr. Tumushabe obtained his first degree in law (LLB Hons.) from Makerere University, Kampala in 1993. He attended a Post-Graduate Bar Course at Uganda's Law Development Centre where he obtained a post-graduate diploma in Legal Practice. He rejoined the School of Law at Makerere University where he obtained a Master Degree in Law (LLM) in 1996. In 2007, Mr. Tumushabe joined the Stanford Program in International Legal Studies (SPILS) at Stanford Law School where he was awarded a Master of Juridical Science (JSM) degree of Stanford University. In 2008, he attended the Stanford Graduate School of Business Summer Institute in Business Entrepreneurship.
Mr. Tumushabe's work career started in 1997 when he joined the Nairobi-based public policy think tank- African Centre for Technology Studies (ACTS). At ACTS, he directed Africa-wide policy research programmes on environmental governance, biodiversity and land governance. He returned to Uganda in 2000 as Founding Executive Director of the Advocates Coalition for Development and Environment (ACODE), a position he held until he retired in December 2013. During his 14 years as executive director, he oversaw the growth of ACODE into a dynamic and reputable independent public policy research and advocacy think tank in Eastern Africa. He designed and raised funds for flagship policy research and advocacy programs in the areas of biotechnology policy, environmental governance, budget policy and priorities, strategic minerals and petroleum governance and local governments strengthening.
Mr. Tumushabe has published widely on a wide range of international and national public policy issues. He is co-author of: Governing the Environment: Political Change and Natural Resources Management in Eastern and Central Africa (1999); Harnessing Intellectual Property Rights for Development Objectives: The Double Role of IPRs in the Context of Facilitating MDGs Nos. 1 and 6 (2011); Public Spending on Climate Change in Africa: Experiences from Ethiopia, Ghana, Tanzania and Uganda (2016); and Unlocking Africa's Future: Biotechnology and Law (2018).  
His currently research interests include: regional peace and security; strategic minerals and petroleum governance, climate change, and cyber policy and digital rights.
Twitter: @GodberTumushabe
Linkedin: Godber W. Tumushabe
Email: godber.tumushabe@mak.ac.ug