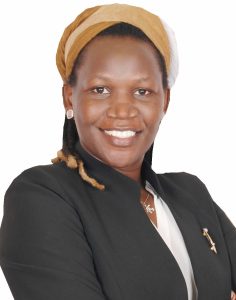 Sylvie Namwase is a lecturer at the School of Law, Makerere University under the Department of Law and Jurisprudence. She is also currently a Post-Doctoral research fellow at the Human Rights and Peace Centre (HURIPEC) School of Law, Makerere University, Uganda.
In 2019, she completed a Post-Doctoral fellowship under a Carlsberg Funded Project on Human Rights and Peacebuilding at the Centre for Resolution of International Conflicts, University of Copenhagen in Denmark.  
She holds a Ph.D., from the University of East London, UK (2017). Her Thesis interrogated the efficacy of legal standards on the use of force during riot control in relation to crimes against humanity under the Rome Statute. She holds a master's degree in law (LLM) from the Centre for Human Rights at the University of Pretoria, South Africa (2011).
While there she received the Victor Dankwa award for best performance in the module: Human rights in Africa under the LLM program on Human Rights and Democratisation in Africa. 
Dr. Namwase is an African Peacebuilding Network (APN) individual research fellow of 2020 under a grant examining national dialogues as state led and state backed initiatives of nation building in Uganda and Rwanda.
She is a member of FIDA-Uganda, where she serves on the FIDA Editorial Board. She has also served as a judge on a panel for the International Studies Association (ISA), Best Female Scholar Book Award.
She is a member of the Human Rights Awareness and Promotion Forum (HRAPF) and an enrolled advocate of the High Court of Uganda.